Serving The Life Science Industry

Conair World Leader for Medical-dedicated Downstream Equipment
Conair offers dedicated equipment for micro bore, multi-lumen, thin wall, high speed, high temperature, thermo plastic or thermo set extrusion processes. Conair was the pioneer for vacuum sizing water tanks, vertical extrusion for extreme thin extrusions, servo-driven puller/cutters, multi-pass water tanks.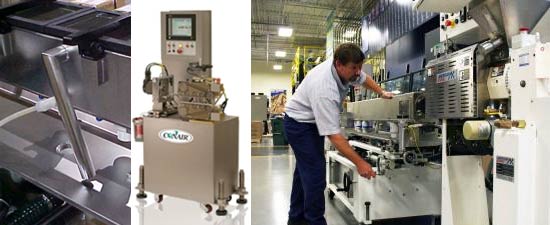 Equipment offered: Vacuum sizing water tanks, water tanks, multi-pass water tanks, puller/cutter, planetary cutter, blade design for cutting, off-line cutters, automatic coil transfer winders, conveyor, a large range of tools and components (funnels, guides, rollers, inserts, alcohol dispensing, air support, servo motors, blade designs, feeding, etc.).
Conair also offer up stream equipment such as blenders, mixers & dryers. In cooperation with 2Spring one offers full integrated extrusions lines as well.
Conair owns a large number of patents that changed the world of medical extrusion. Latest developments are for example: vertical extrusion for extreme thin wall designs, the smallest footprint for PVC-extrusion lines, world's fast flexible PVC extrusion line, unique high speed/burr free cutting for designs such as braid/spiral, silicones, stiff or thin/tacky materials
Conair offers true customer support/service, openness and partnership.

Kinefac Corporation micro coiling & custom wireforming equipment
Kinefac Corporation Kine-Coil division is a world leader in high precision, high speed, precision micro coiling equipment providing our customers with the most advanced CNC production of precision coils. Kinefac is committed to providing unique technological solutions to meet your medical, electronic and micro-mechanical device coiling requirements. High speed, high droop, stiff, variable pitches along 1 coil, flat wire, D wire, coated coils, 0.002" inch wire coils all in a large number of materials.
Kinefac offers a wide variety of systems, CNC, servo-driven, to meet your specific needs. Based on a dry process and typically 1-point (more upon request) precise diamond-based tooling. Out CE-certified systems come with custom tooling, free sample run and continuous R&D support for future designs. Medical coils: Catheter, Marker, Guide wire band, Spacer, Tungsten Filament, Armor, Stapler, Casing, Micro coils: Contact, Pogo connector, relay, connector, valve, solenoid. Kinefac, Worcester Massachusetts USA, is a metal forming equipment supplier, offering metal processing equipment with a focus on coiling, rolling and press rolling equipment. Over 50 years in business privately-owned, ISO certified Kinefac also offers custom equipment for unique processes in the fields of Medical Devices, Automotive, Aerospace & Energy.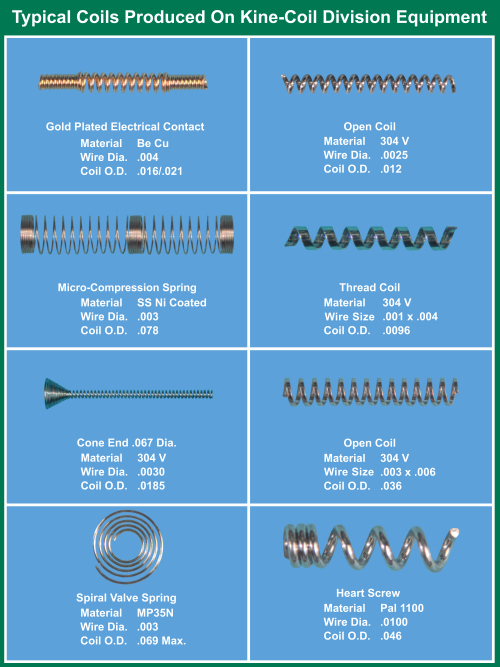 Vante Catheter Manufacturing Equipment
Vante, formerly known as Sebra, offers extreme reliable catheter production systems. With proprietary RF-technology dedicated to the life science markets, processes include but are not limited to flaring, tipping, end rounding, closing, butt welding, hole punching for thermo plastic materials such as PA, PE, PU but also hightemp materials like PTFE, Peek etc. Vante offers a large number RoHS, CE certified clean-room ready equipment, both generators and platforms, based on custom-made tooling. R&D equipment as well as production equipment is offered. For high volume catheter production their systems can also be cell-integrated in existing or to be designed production lines.

Call 2Spring to discuss the best equipment type for your application. TOPAZ, JADE, SAFFIRE, EMERALD or RUBY. Based on cycletimes, platform flexibility, heat resistance, tolerances and other options the choice is easy to make.
Vante is the leading brand for catheter processing equipment and the first and only choice for the majority of the worldwide operating device manufacturers. Vante stands for strong customer contact, reliable and consistent technology, low mass no maintenance tooling, market-specific RF-technology resulting in absolute lowest cost of ownership.
2Spring offers on-site demonstrations based on owned equipment and tooling. Please call to learn more about Vante's capabilities.
Vante's guarantee: The PIRF II systems will remain available for sale, certification & spare parts untill 2018.
2Spring - visit address:  J.F. Vlekkenweg 10-08 - 5026RJ - Tilburg - The Netherlands - Phone +(31) 13-5802420 - Fax +(31) 13-5443735 - Email: info@2spring.com
©2019 2Spring - iRuud.nl